Dental Services – Campbell, CA
Friendly, Low-Pressure Dentistry that Leaves You Smiling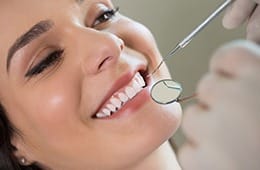 Here in Campbell, we focus our dental care services on improving what's already going right with your smile and preventing the kinds of problems that can lead to damage, which is why we practice conservative general and preventive dentistry. When the need arises, Dr. Karen Ho can also provide restorative and emergency dentistry to treat your teeth and gums.
You can count on Dr. Ho for comprehensive dental checkups, which act as the foundation for your ongoing dental treatment plan and are the first line of defense against problems like tooth decay and gum disease. We will teach you how to properly care for your teeth and gums at home too so that you can be an active partner in your own dental care. Beyond that, we offer a variety of preventive treatments to give you even more protection.
Let's say that you experience an oral health issue. If you need dental fillings, crowns, or a tooth replacement option, we can provide these treatments as well. We can also treat gum disease, which commonly causes a number of other oral health problems, including tooth loss. If you'd like to schedule a first appointment, don't hesitate to contact us today. Do any of the following situations sound like what you're hoping to accomplish at the dentist's office? Click on the links below to learn more:
Why Choose Karen Ho DDS?
Conservative, Minimally Invasive Dentistry
Experienced, Compassionate Dentist & Team of Specialists
Dental Insurance Welcome