Dental Crowns & Bridges – Campbell, CA
We Can Rebuild Damaged Teeth in Lasting Ways
With regular preventive dental visits, our hope is that you can avoid the damage that leads to the need for restoration with dental crowns or bridges – but sometimes, accidents happen. Even if you take excellent care of your teeth, injuries can cause a tooth to break or be lost. If this happens, we encourage you to visit Dr. Karen Ho in Campbell, CA.
Why Choose Karen Ho DDS for Dental Crowns & Bridges?
Tooth-Colored, Metal-Free Materials Available
Partnerships with Local Specialists
Dental Insurance Welcome!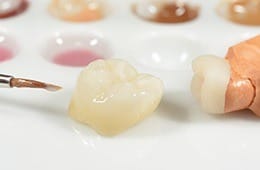 Dental crowns can be used to restore a severely decayed, damaged, or broken tooth to its natural size, shape, function, and appearance. A crown is a tooth-shaped cap that fits over your natural tooth once the damaged pieces have been removed and reshaped. Because the crowns are made from natural-looking porcelain, you don't have to sacrifice appearance for improved oral health and function.
Crowns can also be used to hold a fixed bridge in place. A bridge is a custom-made set of one or more teeth in a row; it's used to fill in unsightly gaps. Unlike removable dentures, a fixed bridge is just that – it's fixed in place for greater stability and confidence. The crowns located on both ends of the replacement teeth are bonded to your natural teeth.
We work with a dental lab that creates strong, attractive porcelain crowns and bridges. You don't have to worry that the results won't be completely natural looking; we can modify the shade and shape of your crowns or bridge to make sure that your smile maintains its unique appearance. You don't have to sacrifice any of your personality to get the dental care you need for a fully functional and healthy smile.
Contact our office today to schedule an exam and consultation with Dr. Ho. Located in Campbell, CA, we provide complete preventive dentistry, as well as restorative treatments like crowns and bridges, to make sure that our patients enjoy high quality care and excellent oral health.