Emergency Dentistry – Campbell, CA
We Can Help with Oral Pain, Broken Teeth & More
By nature, dental emergencies never tend to happen at a convenient or expected time. When these scary situations strike, Dr. Karen Ho and her Campbell team are here to lend a helping hand. We strive to accommodate emergency situations as soon as possible so that you're never left waiting for important relief, and Dr. Ho's connections with local specialists will also help her ensure that patients receive the dedicated care they need when they need it most. Please don't hesitate to contact us right away!
Why Choose Karen Ho DDS for Emergency Dentistry?
Convenient Appointment Availability
Team of Trusted Specialists
Modern Technology & Comfort Techniques
How to Handle Common Dental Emergencies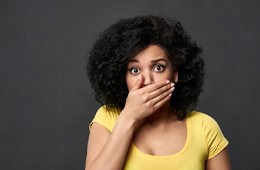 Dental emergencies are typically sudden, alarming, and often overwhelming. That's why it's essential that you know how to handle these scary situations before they strike. This knowledge can help you stay calm and act correctly so you can take care of your smile until you can reach our emergency dental office in Campbell. If you experience a dental emergency, give us a call right away, then try these tips to manage your situation until you can come see us.
Learn More About How to Handle Common Dental Emergencies
Something Stuck Between The Teeth
To dislodge an object stuck between your teeth, try gently flossing around it. Never resort to using objects like tweezers or toothpicks, which could potentially damage your teeth or gums. If flossing doesn't alleviate your pain, try rinsing your mouth out with water several times until we can see you for an appointment.
Dental Accidents & Facial Trauma
Maybe it happens while playing your favorite sport, or maybe while you're running up the stairs at work. All of a sudden, you're grappling with a serious dental injury that's left one or more teeth fractured, incomplete, or even dislodged altogether. Stay calm and give us a call. We will walk you through personalized first aid advice and provide specific guidance for next steps. When you come in for your emergency appointment, we may use solutions like dental crowns, fillings, or more to repair this type of worrisome damage in attractive, lasting ways.
Emergencies Caused By Oral Care Neglect
If you are experiencing noticeable pain or sensitivity in a specific tooth, an advanced infection may be present. Dr. Ho suggests rinsing out your mouth and thoroughly flossing first to remove anything stuck between your teeth that may be causing your discomfort. If symptoms persist, contact us right away for further instructions. Our team will always do our best to preserve the tooth in a conservative fashion and revitalize its health, helping it stay a stable part of your smile for many more years to come.
Gum/Soft Tissue Injury
An injury to the lips, gums, tongue, or other soft oral tissues can sometimes count as a dental emergency. To control the bleeding, press a piece of clean gauze over the area. Once the bleeding stops, you can use a cold compress or ice pack to numb the area until your emergency appointment. If you need to take an over-the-counter pain reliever, remember to avoid products that contain aspirin, which is a blood thinner.
Knocked-Out Tooth
When it comes to restoring a tooth that's been completely dislodged, time is of the essence. You'll need to reach our office within 30 minutes for the best chances of successful reattachment. Once you've located the tooth, only hold it by the crown and be sure to avoid touching its roots. After you've given us a call, try gently placing the tooth back into its socket. If this isn't an option, the tooth can be stored between the gums and cheeks or in a container of milk or saliva. Depending on your situation, we may be able to reinsert your tooth and splint it into place to restore your complete smile.
Unparalleled Experience & Qualifications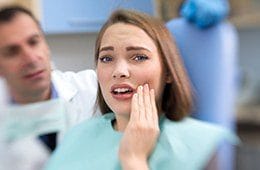 Dr. Karen Ho has been practicing dentistry in the greater Campbell community since 2001, and her commitment to her patients is truly unmatched. Our team hates the idea of leaving anyone waiting for days or weeks for urgent emergency care – we do our best to accommodate you right away! Better yet, Dr. Ho's partnerships with nearby specialists comes in handy for cases of serious oral damage and infections, as she can collaborate with them to ensure the smoothest, most successful recovery process imaginable.
Cost of Dental Emergencies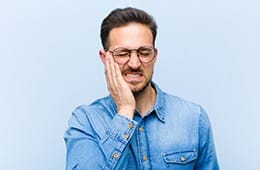 There are many different variables that can impact the cost of your emergency dentistry treatment. That's why we've outlined some of the factors that are considered when deciding the price of your emergency. Each patient's smile is different, which can lead to a range of prices. Keep reading to learn more about what you can expect when it comes to the cost of your dental emergency.
Learn About the Cost of Dental Emergencies
Informed Answers for Your Dental Emergency Questions
Because you never know when a dental emergency will strike, it's best to be as prepared as possible. Dr. Ho understands how traumatic these situations can be, which is why she emphasizes the importance of patients being as informed as possible. Through her years of experience, she has compiled a list of the most frequently asked questions regarding dental emergencies. You'll find the answers to them as you continue reading. If you find yourself dealing with dental trauma, don't hesitate to contact our Bascom office to request a visit.
What should I do if my tooth is knocked-out?
The most important thing to remember when a tooth is dislodged is to resist the urge to panic. However, you'll need to act quickly because there is a small window of time for us to successfully reinsert the tooth. After giving us a call, locate the tooth and carefully rinse it under cool water and attempt to reinsert it or store it in a cup of milk or water until you visit our office.
Should I go to the hospital for a soft tissue laceration?
When you receive a cut to your gums, lips or cheeks, the first priority is to stop the bleeding. You can apply a cotton gauze to the area and gently apply pressure. If this doesn't suffice and the bleeding continues for more than 10 minutes, then you should head to the emergency room.
How should I respond to a toothache?
In most cases, a toothache is the result of prolonged dental negligence. In such situations, you can start by carefully flossing the pain site to make sure there isn't any food lodged between your teeth. If that isn't the source of your woes, then take an over-the-counter pain reliever like ibuprofen and apply ice to the outside of your jaw to reduce the discomfort and any swelling until you can visit our office.
What should I do about a lost filling/crown?
A lost filling or crown can leave your tooth exposed to debris and oral bacteria. As a temporary solution, try to recover the restoration, rinse it under cool water, add a dollop of toothpaste or dental wax and attempt to reinsert it. Until you can visit us for emergency care, avoid any activity on that side of your mouth.
How much does it cost to treat a dental emergency?
The type and severity of dental emergencies can vary greatly; thus, the only way to get an accurate picture of what treatment will cost is to visit us to be examined by Dr. Ho. After a careful examination to determine what the cause of the problem is and what will work best to restore your oral health, we'll provide you with a cost estimate. No matter what type of issue you're facing, you can count on your dentist to deliver effective care in the most cost-conscious manner possible.