Meet the Team - Campbell, CA
Here in Campbell, many of Dr. Ho's team members have been working in this office for over a decade now, which means that patients can count on seeing the same friendly, familiar faces during each visit. Everyone is highly knowledgeable and dedicated to excellent customer service, working hard to make each step of the care process as successful as possible. If you'd like to learn more about them, keep reading below:
Maria Nava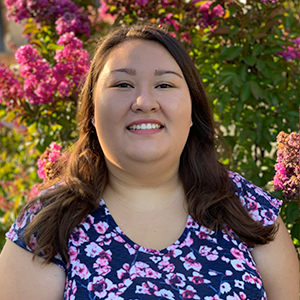 Schedule Coordinator
If you're looking to make an appointment with Dr. Ho, Maria is the person to talk to! She plays a significant role in creating the warm and friendly environment in our practice and can help you fit your dental visits in your busy schedule. She earned a bachelor's degree in business administration with a specialization in health services management from DeVry University. She originally comes from Santa Clara, CA and enjoys baking, going to concerts, fishing, and spending time with her family and dog.
Kathy Brown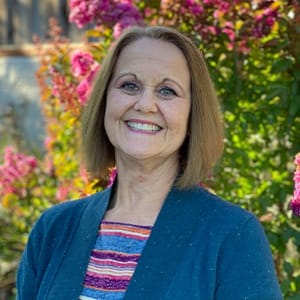 Financial Coordinator
As our financial coordinator, Kathy checks insurance coverage, processes claims and payments, and creates plans with insurance estimates. Born and raised in Indiana, she's been in San Jose for over 30 years. Kathy joined our practice in 2003. She earned her Bachelor's Degree in Education from the University of Notre Dame. She enjoys the patients and staff at our office, as well as the friendly environment. She's a great fit for financial coordination because she's very detail-oriented! Married with two grown children, Kathy enjoys running, and she also volunteers at The Thrift Box, which benefits Lucile Packard Children's Hospital.
Anh Ho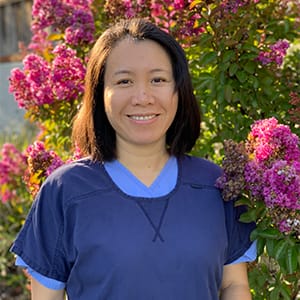 Registered Dental Hygienist
Anh performs teeth cleanings, radiographs, and placing dental sealants, among other tasks. She's from Willow Glen, and she's been in the dental field for over a decade; she joined Dr. Ho's staff in 2011. She believes very strongly in the conservative philosophy and minimally invasive approach practiced at our office. Anh is a great fit for dental hygiene because she loves helping people. For fun, Anh enjoys cooking, traveling, and gardening. She's married and has two sons!
Yen Ho
Registered Dental Hygienist
Yen has been working in the dental field for 12 years and counting. She has her Bachelor of Arts in Dental Hygiene and loves working with such an amazing, compassionate, and fun team here in Campbell! Being able to build relationships with people and really get to know the patients well is important to her, and she finds it extremely rewarding to know that she's truly improved and influenced someone's oral health for the better. Her job duties include helping to prevent oral disease through professional cleanings, providing vital information about gum disease, and teaching patients how to practice proper oral hygiene. Any free time outside of work is dedicated to her two lovely young boys and her husband. Her hobbies include hiking, running, and doing pretty much anything outdoors.
Devina Fuentes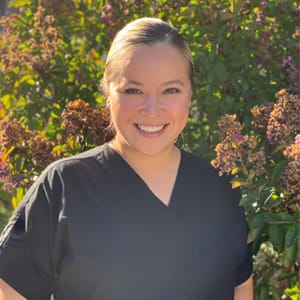 Registered Dental Hygienist
Devina first joined our team over five years ago, and during that time, she's built so many wonderful, strong relationships with our patients through her work. Originally from San Jose, she studied at Cabrillo College and is certified in laser dentistry. She hails from a funny strong and very close family. Whenever she isn't busy at the office, her top hobbies include spending quality with loved ones, going to the beach, watching movies, hanging out at the park, and having family BBQ's. She's always up for a new adventure!
Diana Basilio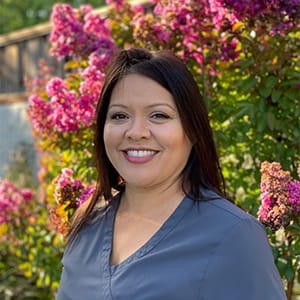 Registered Dental Assistant
With over 20 years of experience in the field of dentistry, Diana is a highly skilled dental assistant. She joined our practice in 2002, and she likes working alongside Dr. Ho, the rest of the staff, and the patients. She spends her free time with family, and she also enjoys sports, music, and movies.
Giselle Basilio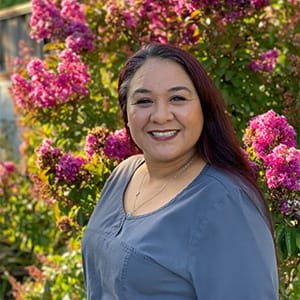 Registered Dental Assistant
Giselle's career in the dental field spans 23 years so far. She loves teaming up with so many great ladies here at the practice – Dr. Ho is amazing to work for! She's also a big people person and loves seeing new faces every day. Outside of work, she is married to her high school sweetheart and has five children and one grandbaby. Her hobbies include shopping, going to concerts, watching movies, traveling, doing DIY projects, and (sometimes) cooking.
Maggie Jeu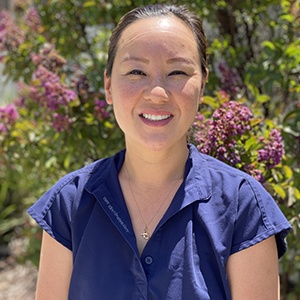 Registered Dental Hygienist
Maggie's hometown is Houston, TX! Although she is relatively new to our team, she has nearly 30 years of experience in the dental field. She completed her studies at Wharton Jr. College and now loves spending her days helping patients improve and maintain their dental health. In her free time, you'll most likely find her spending time with her family, traveling, running, volunteering at her church, and trying new things.