Dentist – Campbell, CA
Get to Know Dr. Karen Ho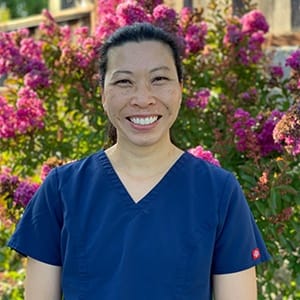 Dr. Ho has been working in the dental field for almost 20 years now, and she is so proud to work with an amazing team here in Campbell day in and day out. She loves spending quality time with patients too, whether she's meeting them for the first time or catching up on their lives after the last six-month visit! Dr. Ho completed a year-long mastership program with the Alleman Center of Biomimetic Dentistry. She has also completed courses through the BAARD (Biomimetic and Advanced Adhesive Restorative Dentistry) Institute in Arizona and the Nejad Institute in Southern California. These comprehensive and rigorous programs teach dentists techniques to create effective, long-lasting restorations. To learn more about Dr. Ho and her dedicated approach to oral healthcare, keep reading below:
Why Did You Become A Dentist?
Dr. Ho grew up with a strong love of arts and crafts. As a kid, she always knew she wanted to go into the medical profession one day. Eventually, dentistry seemed like the right fit because it would allow her to enrich the lives and wellbeing of her patients while at the same time use her artistry to improve the appearance of their smiles.
Where Did You Study Dentistry?
Dr. Ho majored in Physiology at UC Davis before pursuing her doctorate at the University of the Pacific School of Dentistry. Today, she continues to take around 50 hours of continuing education every year in various topics. Her favorite kind of course to take is through Spear Continuing Education, and she regularly travels to Arizona to attend their seminars. She has also been a member of the Spear Study Club for nine years now, which meets every month to discuss complex cases, work on treatment plans, and learn about new techniques in the dental field. She is also a member of the following dental organizations:
American Dental Association
California Dental Association
Academy of Biomimetic Dentistry
Outside of the Dental Office, What Do You Like to Do?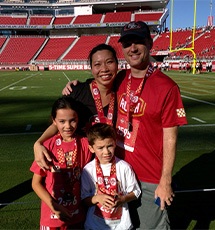 Dr. Ho was actually born in Canada. When she was four, her parents packed up all of their belongings into a lime-green van and drove across the US to settle in Mountain View. She and her husband were high school sweethearts and now have a daughter and a son together. Her hobbies include doing high intensity interval training four to five times a week with her husband, cooking and trying out new recipes, eating at new restaurants, spending plenty of time with loved ones, hiking, biking, playing volleyball, watching movies, and playing video games.