Gum Disease Therapy – Campbell, CA
Stop Gum Disease In Its Tracks
Because our practice philosophy is based on a minimally invasive and conservative approach, we take gum disease very seriously. Why? Because gum disease is one of the most destructive oral health problems, as well as one of the most common. Worse, few people realize that they may be suffering with this condition due to the fact that they exhibit no symptoms early on. Meanwhile, this degenerative oral disease can break down gum tissue and even bone, eventually causing tooth loss. If you want to conserve your natural smile for as long as possible, you'll want to pursue periodontal care that can treat gum disease at the office of Karen Ho, DDS in Campbell, CA.
Why Choose Karen Ho DDS for Periodontal Therapy?
Emphasis on Prevention
Experienced & Minimally Invasive Dentist
Dedicated Deep Cleanings for Long-Lasting Improvement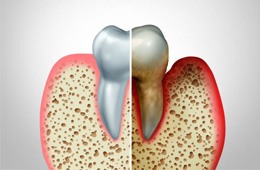 We offer non-surgical periodontal care for treating gum disease. We can use an ultrasonic scaler to remove bacteria and tartar along and below the gum line. The ultrasonic scaler does this job comfortably, using a special tip that creates high-frequency vibrations which remove the plaque that inflames gum tissue and leads to infection. Non-surgical periodontal care for gum disease can also involve root planing, which is a procedure where we smooth the tooth roots to make it harder for plaque and tartar to cling below the gum line, as well as make it easier for you to clear away this debris with flossing at home.
During your preventive dentistry visits, we'll teach you how to effectively guard against gum disease. Our team will be glad to show you the proper techniques for brushing and flossing so that we can make sure you're removing as much of the disease-causing agents as possible. After you've received periodontal care, we may recommend that you visit our office more regularly for checkups so that we can ensure there isn't a reoccurrence of infection.
Make sure that your gums are in tip-top shape with a visit to the office of Karen Ho, DDS in Campbell, CA! Contact us today to make an appointment.