Dental Checkups & Cleanings – Campbell, CA
Keeping Oral Health Problems At Bay
Has it been longer than six months since you last received a dental checkup and cleaning? Dr. Karen Ho focuses on providing her patients with thorough preventive dental care that tackles small oral health problems before they ever have a chance to become more serious. By doing this, she's able to honor her commitment to providing minimally invasive dental care that helps keeps her patients' dental health on the right track. If you haven't scheduled your routine checkup and cleaning yet and would like to, you can contact our office directly or request an appointment online.
Why Choose Karen Ho DDS For Checkups & Cleanings?
Comprehensive Dental Care
Modern Dental Technology
Focused on Minimally Invasive Care
What Happens During a Checkup?
The first part of your appointment is typically your checkup. If you haven't had a dental X-ray within the last year, we'll likely go ahead and take some images of your mouth so we can check to see if there are any issues developing beneath the surface of your gums. Dr. Ho will thoroughly examine your gums and teeth in search of common oral health issues, such as cavities or signs of gum disease. If we find any problems, we'll be sure to speak with you about how we can treat them and walk you through any necessary procedures we may need to schedule for down the road to ensure that they don't get worse. Finally, we'll conduct an oral cancer screening by inspecting your mouth, throat, and lips for any abnormalities.
What Happens During a Cleaning?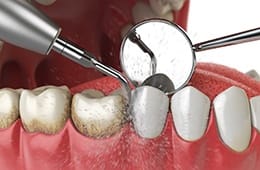 After your checkup, we'll begin your dental cleaning. Using a dental scaler and mirror, we will remove any signs of plaque or tartar on the surface of your teeth and gumline that could cause cavities to develop. Using a special gritty substance called prophylaxis paste, we'll polish your teeth and remove any surface stains to reveal a brighter smile underneath. Finally, we'll floss between each of your teeth to remove any lingering substances.
The Importance of Routine Checkups & Cleanings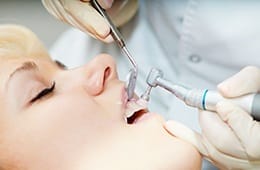 Routine checkups and cleanings with your dentist in Campbell are a vital part of maintaining your oral health and preserving your natural smile. Dr. Karen Ho is passionate about helping her patients optimize their dental hygiene routine and providing them with the tools and knowledge necessary to ward off oral health issues throughout their lives. With the advanced technology used in our office, we're also able to check for problems that may be developing below the surface of your gums that may not be showing symptoms as well. For all of these reasons, checkups and cleanings are absolutely essential.