Dentures – Campbell, CA
Reliable, Cost-Effective Tooth Replacement
If you need to replace one or more teeth, a full denture or partial denture can improve your health and your overall quality of life. Dentures make it possible for people missing all of the teeth along an arch to eat and speak normally once again. Dr. Karen Ho in Campbell, CA will guide you through every phase of the tooth replacement process to make sure that you get the care you need. It's important to keep in mind that not replacing missing teeth can have detrimental long-term effects on your oral and overall health, so don't put off exploring your options. Read on or give our team a call today to learn more about dentures in Campbell!
Why Choose Karen Ho DDS for Dentures?
Implant-Retained Dentures For Superior Fit
Trustworthy Team of Specialists
Latest In Digital Technology
Who Is a Good Candidate for Dentures?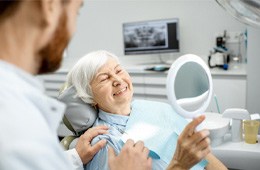 Are you missing one, some, or all of your teeth? If so, then you might be a good candidate for dentures. However, for your restoration to work, your mouth will first have to be in good condition. Our team will thoroughly examine your oral health during your initial consultation. Should we find any developing issues, such as gum disease or an infection in any remaining teeth, then we'll need to perform preliminary treatments. Once we've addressed the problem, we'll be able to move on to providing you with the proper tooth replacement option to renew your smile.
Types of Dentures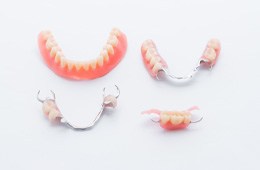 Dentures are one of the most reliable ways to help patients who are struggling with moderate to severe tooth loss. With a well-fitted restoration, they're able to go back to enjoying the function and confidence that comes with having a full smile. During your first appointment, we'll walk you through your available options and detailed treatment plan. Here are the three kinds of dentures you can expect to choose from:
Partial Dentures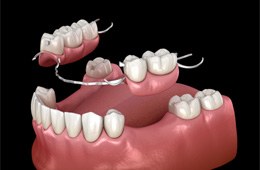 If you still have some of your remaining teeth, partial dentures might be the right solution for you. This restoration is made up of a gum-colored base and prosthetic teeth connected to a metal framework. They are held in place via small metal clasps that wrap around nearby healthy teeth, effectively closing any gaps and renewing your bite.
Full Dentures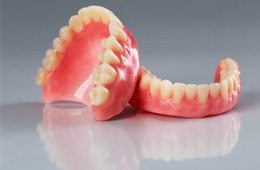 These dentures are designed to completely restore an entire arch of teeth. While they also have a discreet gum-colored base and prosthetic teeth, they are supported via natural suction to the gum line or a tiny amount of denture adhesive (if necessary).
Implant Dentures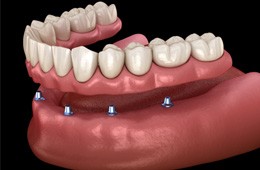 If you want to regain most of your natural biting power, then implant dentures may be the answer for you. Unlike more traditional dentures, these will be directly anchored to titanium posts that are embedded into your jawbone. Once the implants have successfully integrated into your bone tissue, this will allow you to enjoy optimal stability with your dentures without worrying about them shifting out of place. Not only can they preserve your jawbone (and any remaining teeth), but they can also last several decades to a lifetime with proper care!
The Benefits of Dentures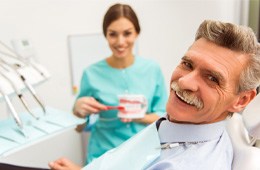 Dentures remain one of the most sought-after tooth replacement options, and it's easy to see why. You can be sure to appreciate a wide variety of essential benefits, including:
Regain the ability to eat nutritious meals
Maintain a durable and lifelike smile
Preserve a more youthful appearance
Boost in self-confidence
Requires simple cleaning and maintenance
Cost-effective restoration method
Can last several decades (or a lifetime) with proper care