Replace Missing Teeth – Campbell, CA
Regain a Complete, Confident Smile
Losing natural teeth can negatively impact a person's life in many different ways, especially if the situation isn't remedied as soon as possible. If you're tired of struggling through each day with an incomplete smile, consider contacting Dr. Karen Ho's Campbell practice for help. Our team offers several different reconstructive services, and we're happy to help patients determine which option fits their personal goals and needs best after an initial consultation.
Why Choose Karen Ho DDS for Replacing Missing Teeth?
Lifelike, High-Quality Dental Materials
Trusted Team of Specialists
Modern Technology & Techniques
What Happens If You Do Nothing?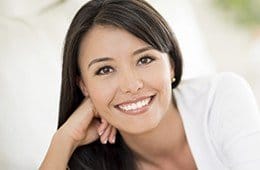 Doing nothing when faced with one or more missing teeth is certainly the easiest option, but we strongly advise against it. Not only does the loss of healthy dental structure result in dangerous jawbone deterioration, it can threaten the continuing wellbeing of nearby teeth. Patients may find it harder to enjoy favorite foods because they cannot chew as effectively as before, and your ability to speak clearly can even be affected. It's also likely that you simply won't want to smile as much as you did before. Replacing the missing tooth or teeth is the best path forward for revitalizing not only your oral health, but your quality of life as well.
Dental Bridges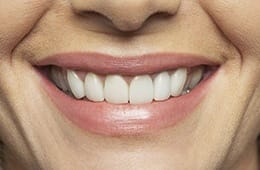 Dental bridges are named as such because they're designed to literally "bridge" the gap left by one missing tooth or several that used to appear in a row. Traditionally, this type of prosthetic is anchored securely in place with the help of neighboring dental crowns, which are attached to healthy teeth on either side. However, this method does require healthy dental structure to be negatively altered. A healthier, longer-lasting solution in today's modern world is implant-retained dental bridges, which rely on two placed implants instead for optimal permanence and longevity.
Learn More About Crowns & Bridges
Dentures & Partial Dentures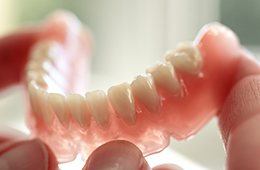 Once a significant amount of natural teeth have been lost, even simple activities like eating favorite foods and chatting with friends can become embarrassingly difficult. Thankfully, dentures are a tried-and-true reconstructive solution that can replenish large amounts of teeth conveniently and reliably. In addition to traditional full and partial dentures, Dr. Ho is also happy to partner with nearby oral surgeons and periodontists in order to outfit these prosthetics with state-of-the-art dental implants for outstanding smile improvements.
Dental Implants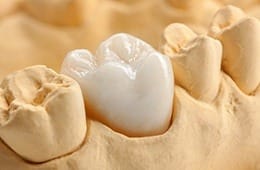 When possible, we will recommend dental implants as the premier reconstructive service for several reasons. This modern service helps preserve the patient's oral health and jawbone density by establishing a new "tooth root" beneath the gum line, and once it's paired with an all-ceramic restoration that's painstakingly designed by Dr. Ho, the final result will be virtually indistinguishable from the original tooth in look and feel. Better yet, they can last for several decades or even the rest of the patient's life with proper maintenance.