About Us
Welcome to the dental office of Karen Ho, DDS! Here in Campbell, our team strives to make ongoing oral healthcare a comfortable, pleasant, and refreshingly modern experience for patients in need. While we do place a great deal of emphasis on preventive care in order to keep smiles safer and stronger over time, Dr. Ho also has the skill and experience needed to care for extensive dental damage, cosmetic flaws, tooth loss, and other more involved concerns. We want to do what is best for you! Keep reading below to learn more about our practice's uniquely wonderful qualities or contact us today to schedule a first appointment.
Team Based Dentistry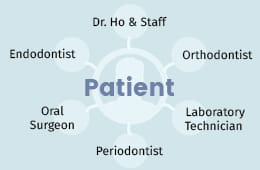 In order to ensure that our patients only receive the highest quality care, Dr. Karen Ho has adopted a relatively new approach called team-based dentistry. Modern-day dentistry is becoming increasingly specialized and far-reaching, meaning that it's basically impossible for one caregiver to provide absolutely everything their patients might need.
That's why Dr. Ho has put together her own "dream team" of dental specialists she frequently collaborates with, including oral surgeons, periodontists, endodontists, orthodontists, and even lab technicians. Now, our patients can benefit from the collective knowledge of multiple dental experts, meaning that no matter what treatment they need, it will always be performed by a dentist who has spent years training to do it.
Dr. Ho has carefully selected her network of specialists, only partnering with those who offer premier patient care, friendly customer service, and the latest techniques and technology. She and her team will coordinate any visits to different dentists so that you'll have a seamless experience that ends with a gorgeous, healthy smile.
Conservative & Minimally Invasive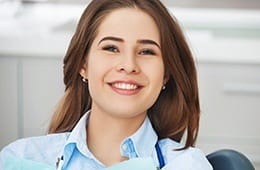 Our team isn't interested in pressuring patients into oversized treatment plans or unnecessary services that don't really fit what they want and need. Instead, we focus on helping you preserve as much of your natural smile as possible through dedicated preventive care, only altering or rebuilding what's absolutely necessary for ongoing wellbeing. In a perfect world, we'd be able to help every patient enjoy their original teeth for life!
Dental Insurance Friendly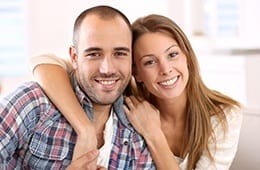 High-quality dental care doesn't have to be financially out of reach! Here in Campbell, our team will be happy to work with your particular insurance coverage by navigating available benefits, filing claims on your behalf as needed, and using our time-tested knowledge of the system to maximize reimbursements to the fullest extent possible. We'll always provide confident cost estimates before treatment begins so that you know exactly what to expect with no unpleasant "surprises" later down the road.
Learn More About Dental Insurance
World-Class Dental Team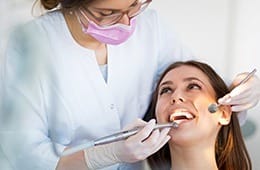 From the front desk to the operatory, you can look forward to receiving friendly, dedicated attention from a team that truly cares. Many of Dr. Ho's staff members have been with this practice for over a decade now, and everyone shares the same passion for minimally invasive dentistry that puts the patient's unique needs first at every stage of treatment. They look forward to getting to know you soon.